If you are less keen on the tailored military look for autumn/winter fashions this season you are in luck. Equally inspired by the spate of costume dramas on the silver screen, and Keira Knightley's latest role in Anna Karenina, the influence of 19th Century Russian women's costumes and peasant dresses has been visibly translated to high street fashion.
If you are in love with the pretty and hippy, then this latest style is very much for you. The other good news is that it's not budget-busting. Start with a long skirt or dress in one of the bold "Matryona doll" floral prints and go for the layered look, with a contrasting blouse looped over a wide leather belt. Next have some perfect

maxi dresses

for achieving the style. Build from their berry floral woven maxi dress in deep maroon with a bold floral pattern, worn under a floral print top, tucked in at the waist with a chocolate plaque filigree-clasped belt, and you have achieved the whole look for under £70!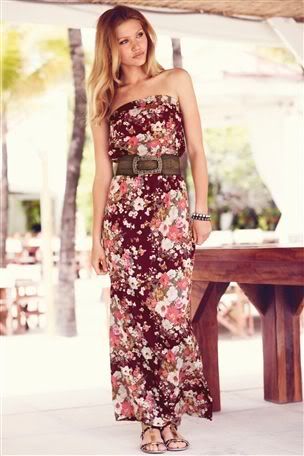 The floral maxi-dress has AW12 staying power!
Vintage clothes stores can be a good source of pretty blouses to layer over dresses or jeans, and enormous shawls with sweeping fringes. To go really colourful, take your cue from the Berit New York Gipsy Folk 2012 collection, which is influenced by Romani, Indian and Middle Eastern textiles and colours. Rich deep yellows glow against ruby reds, and skirts are long with multi-layered hemlines. Patchwork and velvets create delicious belted jackets for evening or day wear, and floral print bolero jackets with fringed edgings are worn over lacy blouses and maxi skirts. Achieving the look for yourself, first turn to your mother's wardrobe – she just might have saved that hippy skirt she used to wear in the seventies! Search out deeply fringed silk shawls to wear casually knotted over a peasant-style white blouse, with a silk waistcoat. A full skirt worn over layers of petticoats will complete the authentic look. Try specialist antique stalls and shops selling lace and old petticoats to find a bargain.
If you want to splash out, then invest in a pair of this season's long boots to go with the folk style. The contrast between a chunky heeled rider boot style and the prettiness of the layered and fringed peasant and gipsy look is what you are aiming for.